Library Campus, Earlier Additions
The original building was constructed by Perry & Treat. Total cost $30,000; Original collection 1,000; Opening day, July 21, 1900.
The original floor plan of the 1900 library: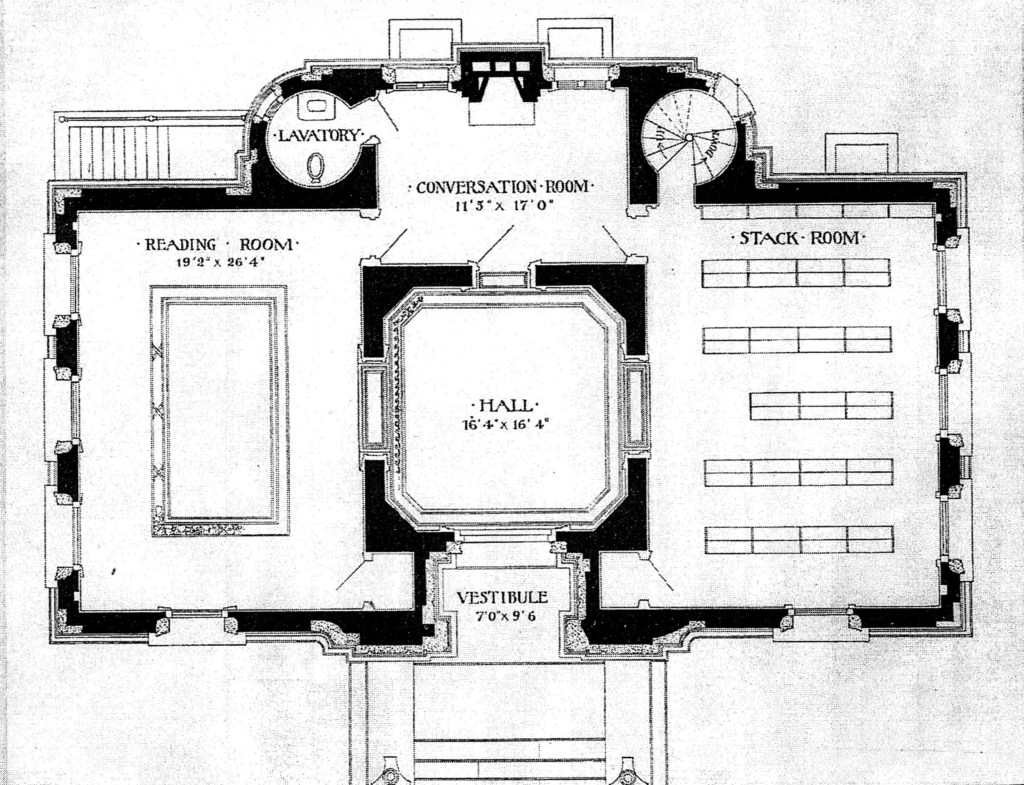 1965 Addition: Added a two-story wing and renovated the building. The Board of Trustees financed the addition by raising $126,195.
1989 Addition: Added space for fiction and nonfiction collection, seating, and computers, and renovated the building to create an upstairs Children's area.
The Schumann Family
The Schumann family financially supported the Scranton Library in the 1960s addition, the 1989 addition, and the 2020 Expansion and Renovation. Their portraits hang in the entrance to the Schumann Children's Room to acknowledge their generous contributions and support for the Scranton Library.
John J. Schumann Jr. (1889-1964) Former President of General Motors Acceptance Corporation. Founding member and past president of The Madison Beach Club, member of the Madison Country Club, and member of the First Congregational Church of Madison. Painted by W. Ford Schumann 1964.
Florence Ford Schumann (1891-1991) Founder of the Schumann Center of Media and Democracy. Member of the First Congregational Church of Madison, Madison Beach Club, and Madison Country Club. Painted by David D. Schumann 2019.
Robert Ford Schumann (1921 – 2011) Philanthropist and founder of the Robert F. Schumann Foundation. Member of the Madison Beach Club, Madison Country Club, and Madison Winter Club. Painted by David D. Schumann 2020.