The Artists
Ralph Goddard (1861-1936)
Ralph Goddard is known for his relief portraits of public figures and especially his bas relief of Twelve Apostles of Modern English Literature, of the influential Longfellow, Emerson, Bryant, Whittier, Hawthorne, Lowell, Holmes, Poe, Tennyson, Thackery, Carlisle, and Dickens.
The Goddards built a home in Madison on the Boston Post Road, formerly Elm Street, at the western end of town. The home at 318 Boston Post Road still stands. Across from this home is Barberry Farm where relatives of Ralph Goddard live today.
Ralph Goddard, in a letter to Mark Twain, stated that his appearance made him frequently mistaken for the well-known author and personality. He wrote to Mark Twain in 1906 to let him know of this occurrence and letting Twain know of his admiration, and included this photo: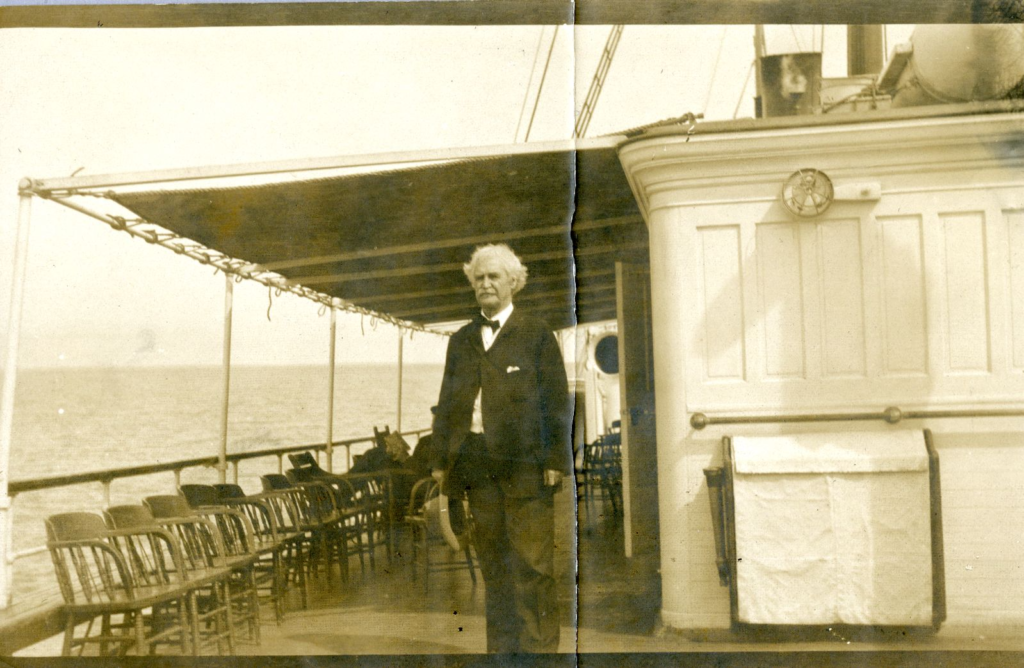 Wheeler Williams (1897-1972)
The Williams sculptures that reside at the Scranton Library are the plaster casts of bronzes that were originally placed at the MacEwan Fountain at the Children's Orthopedic Hospital in Seattle in 1954 and named "Water Babies". Mr. Williams was commissioned by the garden committee to create the bronze water babies and dolphins that "swam" in the fountain. He attended the unveiling of the fountain which honored Mrs. Alexander Fraser (Lillian Gustin) MacEwan, 90, a longtime member of the Board of Trustees of the hospital.
Wheeler Williams was an internationally known sculptor, president of the National Sculpture Society, president of the Fine Arts Federation of New York, and a founder and president of the American Artist Professional League with sculptures for private collections throughout the United States, England, France, and other countries. Williams was born in Chicago and lived in New York and had a home in Madison. He studied sculpture at the Art Institute of Chicago and architecture at Yale and Harvard; portrait, garden, and animal sculpture dominated his work. He is buried in West Cemetery in Madison.
"Dedication Will Honor Mrs. MacEwan." The Seattle Times (Seattle), September 26, 1954.
Francis Edwin Elwell (1858-1922)
F. Edwin Elwell, a descendant of Revolutionary War veterans, was born in Massachusetts, orphaned, and came under the guidance of Miss Louisa May Alcott. He studied in Boston and Paris and worked closely with Daniel Chester French (later the sculptor of the Lincoln Memorial).
Elwell was known as a sculptor of portrait busts, with works in the Vice-Presidential gallery in the United States Senate Art Collection, military monuments including Gettysburg and Vicksburg battlefield sculptures, and architectural sculptures including limestone figures on the U.S. Custom House in New York City. His most famous work is probably Dickens and Little Nell which gained popularity at the 1893 World's Fair in Chicago.
Mr. Elwell was the Curator of Ancient and Modern Statuary at the Metropolitan Museum of Art until the Board of Trustees abolished his position after Elwell had a personal argument with the acting director, George H. Story in 1905.
The limestone busts of Shakespeare and Dante were placed at the Scranton Library in 1907.
In the Metropolitan Museum of Art archives [Frank Edwin Elwell Papers] there is a letter from Scranton Library's architect Henry Bacon to Elwell dated November 1902 informing him they received the Paterson (NJ) Public Library competition and thanking Elwell for his input. The Paterson Library had burned in a fire and was undergoing a rebuild. There is another letter in the collection from Bacon requesting a meeting at Bacon's new office for punch and later dinner in November 1903.
Also in the collection is correspondence between Ralph Goddard and Elwell. In response to an inquiry from Elwell, Goddard responded in 1902 with a list of his sculptures specifically mentioning "a poets and authors series reproduced generally in bronze and plaster."
Elwell died suddenly at age 63 in Darien where he lived.